Outstanding Service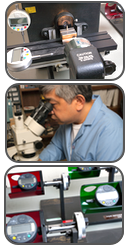 Driven by the desire to provide the utmost in customer care, we implemented a number of programs to further service Gould Fasteners' customers' needs. Pre-inspection of products at Gould Fasteners save the customer time and money.
Gould Fasteners inspectors have received an intensive six-month training program in the use of gauges and measurement devices so that they are well equipped to determine whether parts are within tolerance.
Because of our stringent pre-inspection policy, we can offer Dock-to-Stock, KanBan and Just-in-Time programs with confidence.