Calmark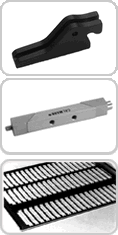 For more than thrity years, Calmark has been designing and engineering electronic packaging products and electro-mechanical assemblies. Their products include PCB enclosures, guides, card-loks, retainers, extractors, card pullers, connector assemblies, PCB handling trays and cooling products for both commercial and military applications.

Calmark is committed to protecting the environment and to being an environmentally responsible corporate citizen. Calmark is committed to supporting directive 2002/95/EC (RoHS), directive 2002/96/EC (WEEE), Peoples Republic of China RoHS Standard SJ/T 11363-2006, and other environmental legislation.

Gould Fasteners is proud to be the only Authorized distributor of Calmark products in Canada.

Calmark is ISO Certified

Calmark is MILSPEC CERTIFIED
For More information, please visit the website of Calmark