Hoffman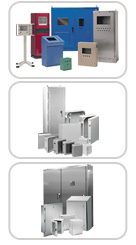 All electronic and electric products require some kind of enclosure to protect them from their environment. For more than 60 years, Hoffman has been an industry leader in this field.

Hoffman products are used to protect electronic controls and mission critical electrical systems in industrial, data communications, commercial construction and government applications. Their products come in a variety of materials from mild steel and stainless steel to aluminum and non-metallic.

Hoffman also manufactures a wide range of thermal management products. All of their products can be tailored to suit your specific requirements quickly and cost effectively.  

Hoffman products are of the highest quality complying with UL, NEMA, CSA and other international standards.

Gould Fasteners is proud to be the Canadian authorized distributor for Hoffman.

Hoffman is ISO Certified

Hoffman is MILSPEC CERTIFIED
For More information, please visit the website of Hoffman