McLean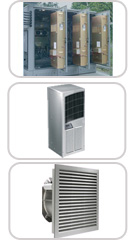 All electronics produce heat. Unless this heat is removed most modern day electronic products would overheat. So to avoid this cooling products are used to help control this problem. Consequently, these products have become an essential component in any electronics design.

For more than thirty years, McLean has been manufacturing cooling products for the electronics industry. They design and produce a vast array of cooling products ranging from stock fan assemblies to custom cooling enclosures.
McLean's products are RoHS compliant.
Gould Fasteners is proud to be the only Authorized distributor of McLean products in Canada.

McLean is ISO Certified

McLean is MILSPEC CERTIFIED
For More information, please visit the website of McLean