USA Drives, Inc.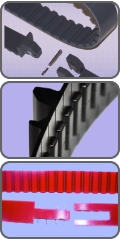 Since 1985, U.S.A. Drive, Inc. has been designing and manufacturing a variety of quality urethane and molded belt products with a multitude of capabilities.

They are an industry leader for quality, lead time and innovation. Their timing belts are used in numerous markets and companies world-wide ranging food processing small office electronics to robotics and corrugated printing machinery.

They focus on efficient and economical supply and are capable of manufacturing both standard and engineered products. Their facility is able to fulfill both low and high volumes of production.

U.S.A. Drives' current product line includes:


Dual Durometer Packaging Belt
Integrated Molded 'V'
Dual Durometer Vacuum Packaging Belt
FDA flat Belt 'V'-Guide and Pins
Integrated Molded Inserts
Pin Splice Timing Belt
38 Lug Multi-formulated Belt
Integrated Molded FDA Timing Belt
Metal detectable FDA Formula Belt
Anti-static Flipper Belts
FDA Metal Detectable Vectran Belt
FDA Dual Durometer
Kevlar Reinforced Robotic Track Belt
Blood Analysis Belt
For More information, please visit the website of USA Drives, Inc.