VELCRO® Brand Products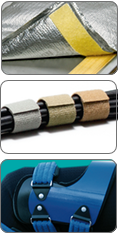 Beginning with a walk in the woods in 1941, Swiss engineer George de Mestral turned the problem of removing burdock burr's from his dogs fur into an incredibly versatile product. Today, VELCRO® Brand fasteners have grown to incorporate a wide range of innovative products that are employed cost-effectively in countless applications. VELCRO® Brand products are found across a wide variety of industries such as transportation, military, packaged goods, construction, apparel, personal care, and agriculture.
Gould Fasteners is proud to be a full service wholesale reseller of VELCRO® Brand products. We distribute the complete line of VELCRO® Brand fasteners which includes: VELCRO® Brand Textile Hook and Loop, VELCRO® Brand Plastic Hooks, VELCRO® Brand Self-Engaging Hook and Loop, VELCRO® Brand Adhesive Options and VELCRO® Brand Converted and Fabricated Products. Whatever your product requirements, Gould Fasteners can assist you with our vast knowledge of VELCRO® Brand products and our exceptional service
VELCRO® is a registered trademark of Velcro BVBA. Used with permission.

VELCRO® Brand Products is ISO Certified

VELCRO® Brand Products is MILSPEC CERTIFIED
For More information, please visit the website of VELCRO® Brand Products